Recognising the strong potential complementarity between ECOTIP and FACE-IT, the two projects organized a seminar on Friday 16 April to identify areas where researchers and activities could be better linked and strengthened.

FACE-IT, which stands for "The future of Arctic coastal ecosystems – Identifying transitions in fjord systems and adjacent coastal areas" is a Horizon-2020 project financed under the same call as ECOTIP.
FACE-IT´s research focusses on the changes that are and will be happening to Arctic coastal zones as a result of changes in the climate, and the impact this will have on local communities, food production, livelihoods and other ecosystem services.
At the meeting, a series of talks about each project was followed by breakout sessions focusing on social sciences, experimental work, biodiversity, and modelling.
Through the meeting, participants realised that several areas of work could be linked for the benefit of both projects. Some of the concrete outcomes and decisions from the meeting included the following:
cooperation is in fact already happening in some areas, for example joint social science fieldwork in Greenland is already planned which will link the work on offshore fisheries in ECOTIP with that of coastal fisheries in FACE-IT;

common stakeholder dialogues, including a presence in Nuuk and for EU policy briefings, should be considered and would be beneficial to reduce stakeholder fatigue;

opportunities to working together on training and education exist, including the upcoming PhD course on multimedia, and expanding this to working directly with journalists.
At the scientific level, a number of areas were identified where stronger cooperation could be beneficial, in particular on microbial processes, invasive species, benthic fauna and marine mammals. The two projects will consider sharing relevant data and aligning field campaigns and experimental work where possible.
'It is a great opportunity to be able to link with a related project at such an early stage," said Marja Koski, ECOTIP´s coordinator. "ECOTIP and FACE-IT complement each other in many ways: for instance, a close collaboration will enable us to relate the changes occurring in the fjords to changes in the open ocean, which is vital for understanding the marine biodiversity change in the Arctic," she added.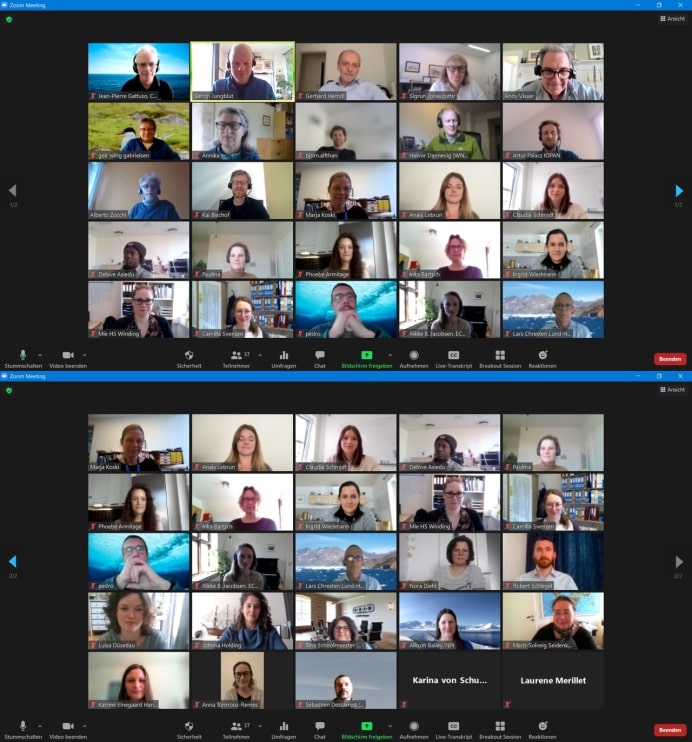 Participants from both projects meet on Zoom, Friday 16 April. Credit: Simon Jungblut
Cover thumbnail and credit: Disko Bay, Greenland. Peter Prokosch.