The H2020-funded ECOTIP is participating in Greenland Science Week, a bi-annual Arctic science platform for networking, cooperation and public outreach. ECOTIP contributes with a science session in the conference, two stakeholder workshops, policy recommendations and a photo exhibit. The aim of our participation is to highlight and inform Greenlandic stakeholders about findings of the project's research, make preliminary recommendations for policy and decision-makers, as well as to open a dialog on these in order to co-create conclusions which we will bring forward in our final project recommendations.
Nuuk, Greenland – ECOTIP researchers Dr. Rikke Becker Jacobsen and Kamilla Rathcke from Aalborg University's Centre for Blue Governance; and Professor Marja Koski from the Technical University of Denmark's National Institute of Aquatic Resources (DTU Aqua) are on hand in Nuuk during Greenland Science Week to present ECOTIP research results, to engage in dialog with local stakeholders and to address any questions or comments in person.
This is the second time ECOTIP participates in Greenland Science Week. The last time was in 2021 in the project's starting year, when Rikke together with Greenland's Institute of Natural Resources (GINR) hosted the first Stakeholder workshop with 9 stakeholders including a seafood company and fish factory directors, trawler skippers and a representative of small-scale fisheries and the Self-Government Ministry of Fisheries and Hunting.
Since then, Rikke has conducted a review of 'local ecological knowledge' (LEK) literature available over the past ten years for Greenland, and has conducted interviews with local hunters and fishermen, as well as fisheries stakeholders. This year's participation is the final one for the project, which ends in May 2024 and is succeeded by the project SEAQUESTER, a project focusing on the carbon sequestration potential of emerging ecosystems in polar and sub-polar seas, starting in February 2024. It is a final opportunity to have a dialogue and take into account feedback from stakeholders, which we can use to adjust our final recommendations.
"It's quite overwhelming, how many things are changing on various scales, and we use this ECOTIP project to try to touch base with what's experienced right now in local knowledge and fisheries."
- Dr. Rikke Becker Jacobsen
Lecture, stakeholder workshop, photo exhibition and policy recommendations
Stakeholder workshops: November 7th, 2023 10:00-16:00
This year will mark the inaugural event 'Greenland Marine Research Seminar', which this year brings together international experts and researchers to discuss three ongoing projects that shed light on the Arctic region's vital importance in climate and biodiversity:
Learning from local and indigenous knowledge to understand fishery impacts and policy needs (ECOTIP) - watch the video here
Exploring the future perspective and societal impact of fjord changes in Greenland and the North Atlantic (FACE-IT)
Documenting environmental change at the Davis Strait, the gateway between the Arctic and subpolar North Atlantic, and its impacts on southern Baffin Bay marine ecosystems (Davis Straight Observing System)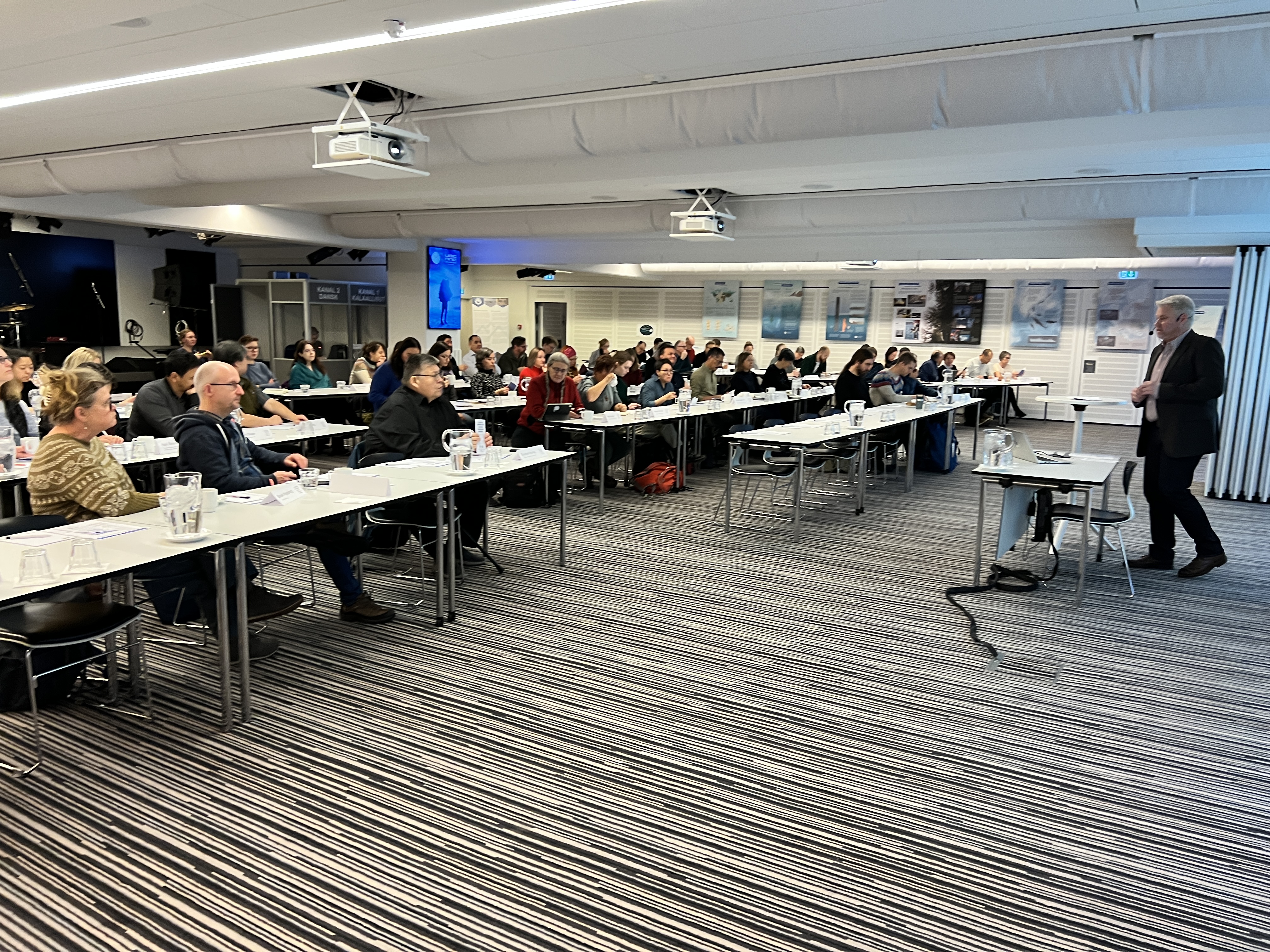 There were 83 registered participants for the seminar, which included representatives of Greenlandic government, fisheries, NGOs, research, tourism, business and interest groups. GINR plans for this to be a bi-annual event. Photo: Sabrina Heerema
After the seminar, stakeholders stayed to decide on priorities for future marine research in East Greenland, guided by hosts from the International Council for the Exploration of the Sea (ICES), GINR, ECOTIP and Nordic Co-operation.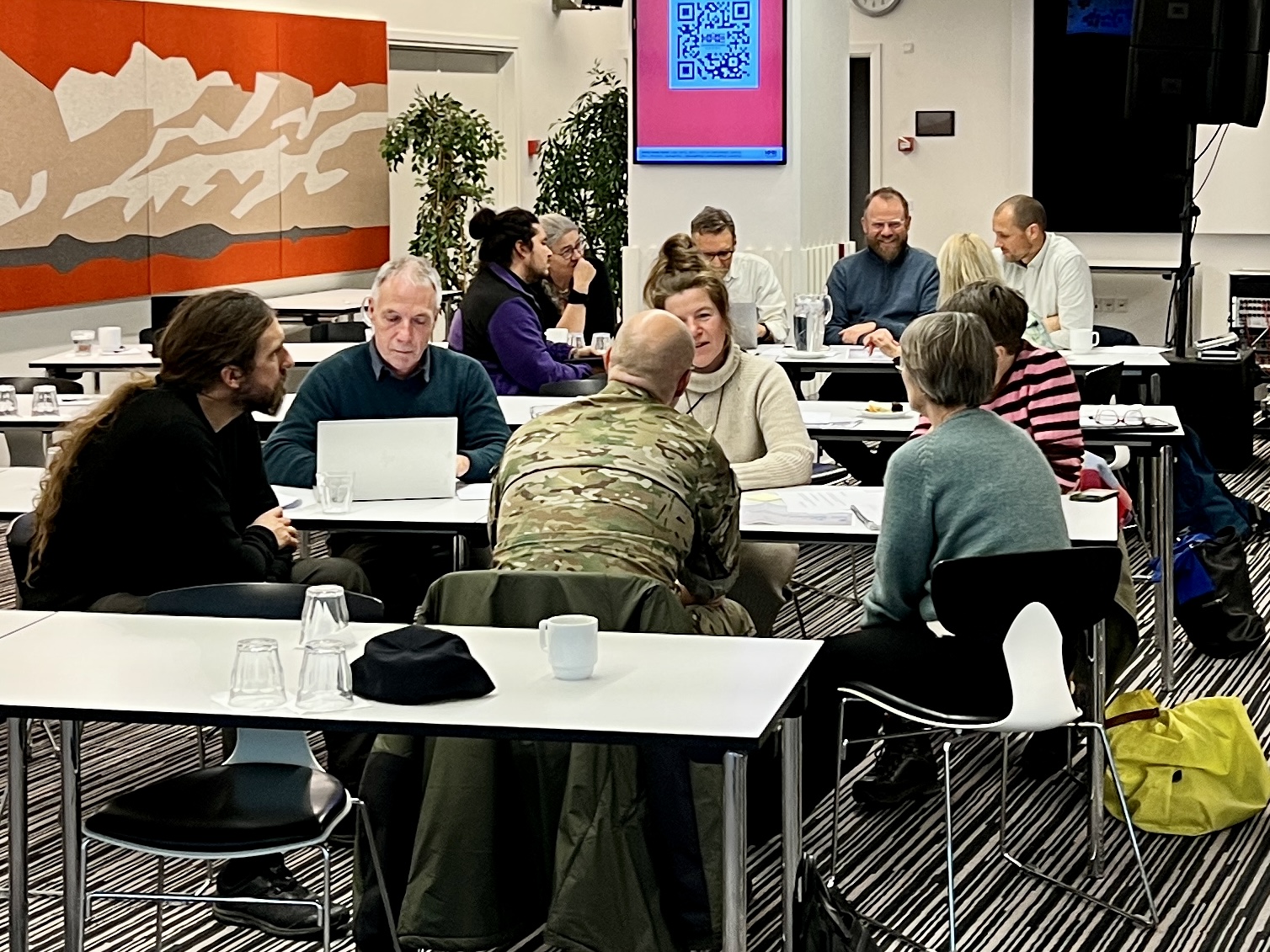 Participants of the second stakeholder meeting got into groups to brainstorm suggestions for priorities. Photos: Sabrina Heerema
2. Science session: November 8th, 2023 14:45-15:00, "Rikke Becker Jacobsen: Understanding changes in East Greenland coastal fisheries with Local Ecological Knowledge" - watch the video of this session here
Under the theme "Making Science Matter", this year's Greenland Science Conference takes inspiration from Greenland's National Research Strategy 2022-2030. The strategy, entitled Research – the Road to Progress, defines the vision of the Government of Greenland for the development of research in Greenland. The research of ECOTIP certainly supports Greenland's National Research Strategy for 2022-2030, as it is anchored in Greenland; supports sustainable societal development – in particular, sustainable development of Greenlandic fisheries; research results are easily accessible to all – presented in person at Greenland Science Week and online in several languages; and the ECOTIP research efforts are at an international level, with a consortium of 17 partners participating internationally from Europe, the UK, Canada, Greenland, Iceland and Japan.

3. Photo exhibit: The ECOTIP exhibit is available digitally in English and in Kalaallisut, but will also be displayed at the Marine Research Seminar.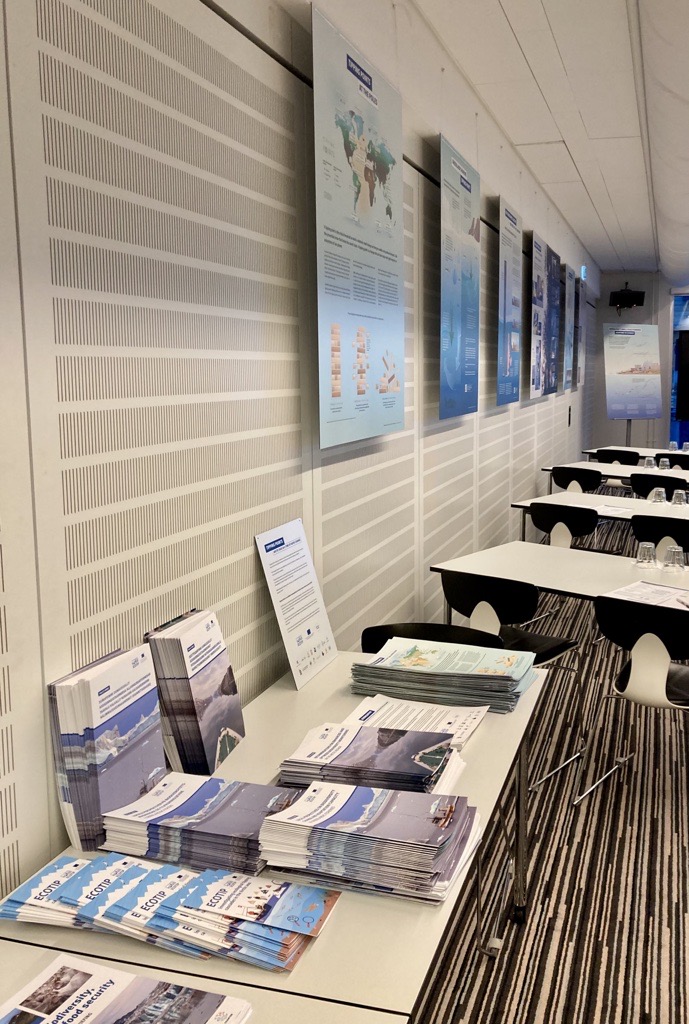 The Ecotip exhibit on display and policy briefs translated into Danish and Greenlandic, available at the Greenland Marine Research Seminar. Photo: Sabrina Heerema
4. Policy recommendations: Dr. Rikke Becker Jacobsen made a summary of recommendations for policy- and decision-makers based on her research with local communities, entitled "Local perspectives on biodiversity change and adaptation capacity in Greenlandic fisheries", and also made recommendations for enhanced and optmized biodiversity monitoring in the Arctic region on behalf of ECOTIP.